A large coccolithophore bloom, viewable from space, has been observed in the Eastern Bering Sea. PMEL and AFSC scientists observed and sampled during this event as they conducted research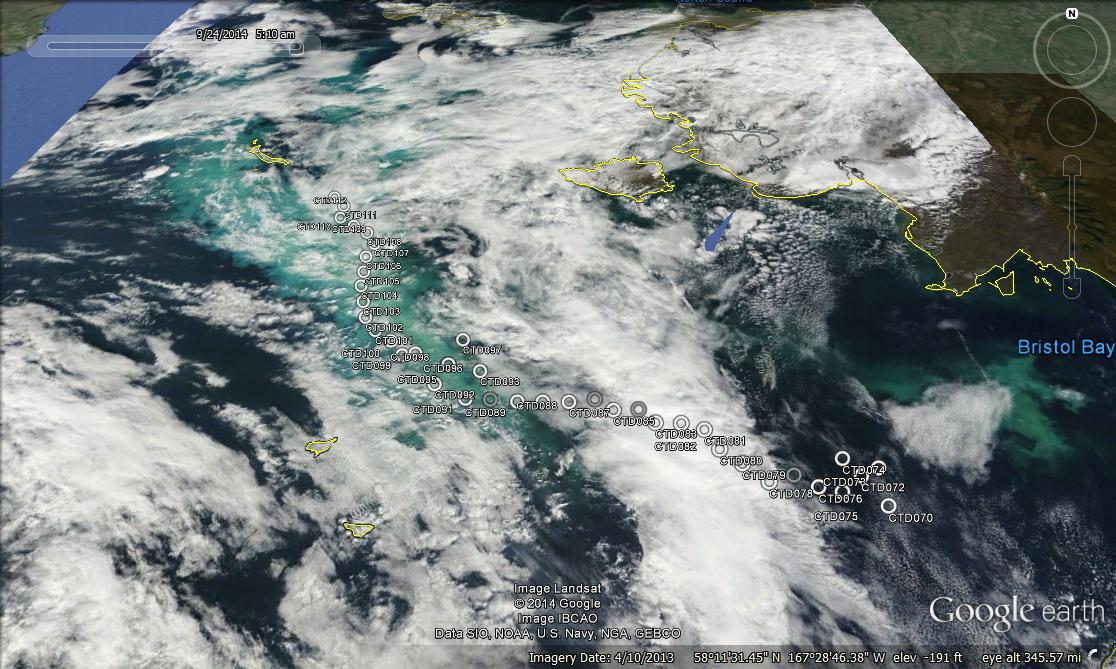 The extent of the phytoplankton bloom can be seen in this September 29th, 2014 satellite image of the Bering Sea. Our path through the bloom can be tracked via sampling stations (white circles) from NOAA's R/V Oscar Dyson. [image: S. Bell]
in the Bering Sea as part of the fall EcoFOCI-BASIS research cruise. The aquamarine hue of this phytoplankton bloom is caused by the coccolithophore,
Emiliania huxleyi
, a one-celled marine algae with calcite plating. In addition to its sizable extent over the Bering Sea shelf, this bloom has persisted for nearly three months, starting in July 2014. Coccolithophore blooms of this size and duration have not been seen for over a decade in the Bering Sea.
| | |
| --- | --- |
| | |
| Bering Sea water is typically blue, as seen in this photo of a CTD deployment. [image: A. Shimada] | Coccolithophores cause the seawater to appear more green. [image: A. Shimada]. |
Scientists from the EcoFOCI group will be able to use this opportunity to study this large-scale bloom from their data collection. By measuring the oceanic physical, chemical (nutrients) and biological properties they can better understand the conditions that set up the bloom, the feedback effects it might have on the ecosystem, and possible relationships to climate patterns.
For more information about similar coccolithophore blooms in 1997-1998, and a related workshop and articles:
Article on the
cause and variability of coccolithophore blooms
(T.Lida, et al, 2011)