** USCGC Healy: May, 2008
This 2008 Bering Sea Ice Expedition ended on May 6 with the US Coast Guard icebreaker Healy returning to Dutch Harbor, Alaska. We successfully completed a CTD transect of the 70-meter isobath, a pattern we try to repeat Spring and Fall for a longer-term look at annual variability and change in the Bering Sea. We also re-visited our southeast Bering Sea mooring stations M2 and M4 on our way to Dutch Harbor for just a few more CTD casts. Conditions have changed since the beginning of this expedition in late March. Our science party packed up equipment, labs and their personal gear and disembarked to head for home. The Healy, having been in the Bering Sea since February, is headed back to their Seattle home port where our scientific crew will meet the ship and offload equipment. The cutter should arrive near May 20th. Another Spring Ice cruise is over, and now we commence working with our data in the bigger picture.
** USCGC Healy: April 29, 2008
We have spent time on the deepter shelf slope, west on the eastern Bering Sea shelf, reaching out to water depths of 1000 meters. A CTD deployment (conductivity, temperature, and depth-gathering package) takes a long while to descend to near-bottom at these depths. We have been completely out of the ice over some of the past days since our departure from the Pribilof Islands, with less ice cover due to location and the oncoming Spring. Today we pursue an easterly direction into more shallow waters of 100 meters and less. We are notably north of the Pribilofs, and of St. Matthew Island, and once again in ice, in its Spring degradation. Today we accomplished Ice Station 11. This is our second stop for ice work on this second leg of the research cruise. We are now headed further east to begin a series of CTD deployments that form a line northwest to southeast, all at approximately 70-meters depth. We refer to this as the 70-meter isobath line (see map of 70-meter line from a 2006 cruise), isobath meaning "same depth".
** USCGC Healy: April 21, 2008

Life buoy on USCGC Healy with icy sea background. Photo by C.Ladd
We have been out on the Bering Sea for 24 days by now. On April 18th, Friday, four of our scientists flew from home to St. Paul Island in the Pribilof Islands. The USCGC Healy headed for St. Paul on the 19th. We are past the half-way point of this expedition. As planned, we had a trade-out at St. Paul on the 20th, some scientists leaving the ship and others arriving to take their places. Following the transfer of people, we are again headed out to continue our work on this icy front: the newly-arrived scientists settling in and getting their sea legs, while joining in the on-going routines of the ship and scientific work that is already in progress. Stay tuned for more news of the Expedition as Spring progresses and conditions change.
** USCGC Healy: April 6, 2008
(
see images for this day
)
Wow! It is an incredible day in the Bering Sea.The weather has been notably windy and cold the last couple of days but today we woke up to sunny skies, no wind, and slightly below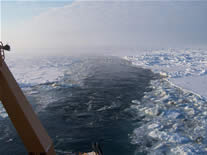 Fog and path cut by USCGC Healy. Photo by C.Ladd
freezing temperatures. I'm not sure I have ever seen a landscape so beautiful, with ice all around us, though there are also some leads of open water snaking through.  Little puffs of fog form over the leads so the air is somewhat foggy.  The water is completely glassy, no movement, so anywhere ice is piled up along the edges of the water creates a perfect reflection in the water.  The sun is out and the sky is blue. With the sun lower in the sky, light bouncing off the snow and the water has a very strange dreamy quality.  There is a fair amount of snow on top of the ice and the wind has created beautiful formations in the snow.  It almost looks like another planet.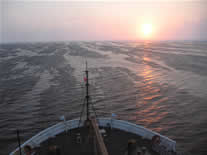 Sun low on the horizon, ice patterns on the ocean surface. Photo by C.Ladd
We have been doing ice stations every day for the last four days(aloft cam 4/6/2008, 20:01 UTZ). During an ice station, we go off the ship with our gear to the ice surface and drill out ice cores. The core is a cylinder of ice that we cut up into 10 cm pieces. We bring these samples back on board to measure nutrient, salinity, temperature, and chlorophyll content in those 10 cm chunks of ice. This information tells us something about the ice algae, how fast it is growing and how fast it uses up nutrients.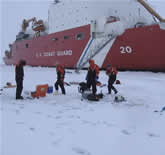 Ice work and USCGC Healy. Photo by J.Malczyk
There are many different groups of scientists on board with all kinds of scientific observation and experimentation going on. On the bow (front deck of the ship), there are multiple incubators where scientists are trying to grow zooplankton (very small floating animals such as copepods and krill). Other scientists are taking samples of sediments from the bottom of the ocean to measure the biota and chemistry of the sediments. Still other scientists are towing nets to see what kinds of biota of various sizes are living in the Bering Sea (both in the open water and under the ice) at this time of year. The main lab of the ship is crowded with all of these scientists and their different kinds of equipment.
** USCGC Healy: April 4, 2008
Work has commenced on the Bering Sea shelf, and word from the ship is that our long-term Mooring Site "M4" was visited yesterday for CTD casts, gaining water column data, and water samples for numerous projects and scientists on board. We have posted a map showing the track line of the ship. A technician from the ship set us up to receive an automated email of location information every four hours (thanks Mike!). The ship-track map will be updated every day or two so you can view where we are.

** USCGC Healy: March 29, 2008
Healy left Dutch Harbor on Saturday, March 29. We started out with nice calm seas, allowing us to get our sea legs without much difficulty. Our first order of business was a safety and orientation meeting with the Coast Guard. Our Coast Guard hosts take very good care of us while we are out here. After the orientation meeting, the science party (almost 50 of us!) had a science meeting to coordinate all of our various projects. It is going to be difficult for all of us to get everything we would like out of this cruise but we will all do our best to work together and help each other out. It is very exciting to be working with such an interdisciplinary group with all different kinds of science going on all at once.
The first station was a 24 hour marathon of different types of sampling. First, we deployed a CTD. This instrument is put over the side of the ship and lowered to the bottom of the ocean. Along the way it collects conductivity, temperature, and depth (CTD) data. The conductivity data tells us the salinity of the water. As we bring it back up, we close bottles at different depths to take water samples. These water samples are used to measure a variety of things including, nutrients, oxygen, and the amount of biology in the water. A variety of different types of nets were also deployed at Station 1 to determine what kinds of animals (and how many of them) are living in the waters out here. We are still trying to work out the kinks in our sampling methodologies and at first everything takes longer than it should. But with practice, soon we will be running like clockwork.
** Pre-cruise - USCGC Healy: March 27, 2008
(
see images for this day
)
USCGC Healy has arrived in Dutch Harbor, Alaska (aloft camera image) from her previous work in the Bering Sea. Our scientists are flying today to meet the ship. Let's hope weather holds for the flight from Anchorage to Dutch Harbor. The flight can be tricky or cancelled for difficult conditions. From the time we arrive we will be busy with last-minute preparation, embarking the ship, and settling in before the ship leaves for points north, and five weeks of ice and ocean work. Did we forget anything, and how does the weather look for the upcoming days and our transit to our first destination? Check our links to see some of the weather and data resources we use. Saturday we cast off for the Bering Sea.
** Pre-cruise - USCGC Healy: March 6, 2008
USCGC Healy left the Seattle Coast Guard station, embarking on it's voyage north toward Alaska and the Bering Sea. Our scientists will travel to meet the ship in Dutch Harbor, Alaska, and will leave from there on March 29, 2008. The research cruise will be divided into two sections or "legs" and both will be completed on May 6 after 5-1/2 weeks at sea.

** Pre-cruise - USCGC Healy: February 27, 2007 (see pre-cruise images)
We loaded the Healy in Seattle today where it is tied up at the Coast Guard Dock prior to her departure to Dutch Harbor, Alaska and the Bering Sea. Equipment and instruments are stored in the ship's hull waiting our arrival in a month. In the final month before this expedition we will continue cruise preparation for our 5-week outing. Do we have log sheets ready yet, have we remembered software and cables, parts for our instruments, rain gear? There are many things left to do and we are working steadily toward making this a successful endeavor.